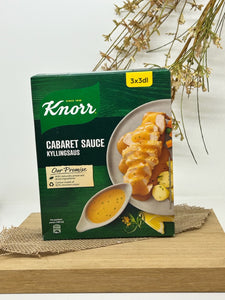 Knorr Cabaret Sauce
Knorr classic Cabaret sauce.
Knorr Cabaret sauce is a delicate spicy sauce with a welcoming scent of estragon. In addition, the tasty sauce consists of, among other things, mustard, celery, onion and curry, and it is perfect for any meat or vegetable.
Knorr Cabaret Sauce er en delikat krydret sauce med en indbydende duft af estragon. Den forførende sauce indeholder også sennep, selleri, løg og karry, og den egner sig rigtig godt til and, vildt eller kylling, men kan også anvendes til vegetariske og veganske retter - tilbered blot med plantebaseret mælk og margarine. Saucen let og enkel at lave og naturligvis helt uden konserveringsmidler og tilsat smagsforstærkere. Hver pakke Knorr Cabaret Sauce indeholder tre breve, som hver svarer til 3 dl færdiglavet sauce.

Method:
1. Melt 50g butter in pot over low heat.
2. Add satchet content and mix well. Add 250ml milk
3. Bring to a boil and cook for 2-3 min.
3pk
Net weight 81g
Knorr