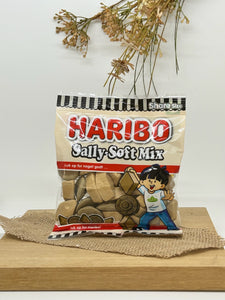 Haribo Sally-Soft Mix Licorice
1980'ernes velkendte skumfavoritter har fået nyt liv i denne blanding. Sally Soft kan kendes på deres klassiske rudeform og den milde smag af lakrids. Her får de selskab af mundrette UFO'er, som har fået tilføjet en anelse anis, hvilket giver en god kontrast til det søde lakridsskum.
Haribo Sally Soft Mix er en uimodståelig blanding af forskellige skumstykker med hver deres lakridssmag.
A delicious mix of foamy licorice pieces - each with their own licorice flavour.
Net weight 100g
Haribo 🇩🇰


Ingredients:
Glucose syrup, sugar, gelatin, raw licorice, flavour (ammonium chloride E510), aroma, palm oil, glazing agents (beeswax white and yellow, carnauba wax).