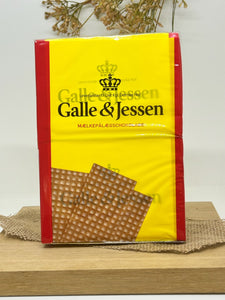 G&J Pålægschokolade Milk (2pk)
Galle & Jessen Lys Pålægschokolade er tynde og sprøde skiver af mælke chokolade, med en dejlig sød smag. Brug pålægschokoladen på franskbrød eller nybagte boller – gerne med et godt lag smør under. Pålægschokoladen smager skønt på brødet, helt som den er.
Thin and crisp milk chocolate slices. Put it on buttered toast or rolls.
Net weight 216g.
Best Before Date 17/11/24
2 pack
Please be aware that as always we will pack this product as safely as possible, however as this is a delicate product we can not guarantee this product will arrive in perfect condition. We will continue to stock this Danish favourite despite the risk, however when you choose to purchase this item you agree to receive it as it arrives. Thank you for understanding.
We highly recommend using Express Post when purchasing this item.
Palaegschokolade
Best Before Date: 31/03/24
Galle & Jessen. 
Toms Group 🇩🇰