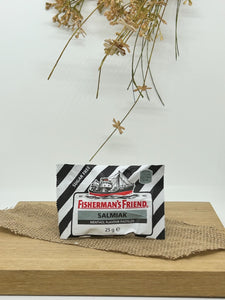 Fisherman's Friend Salmiak - Sugar Free
Fisherman's Friend with Salmiak is super intense, strong and really something special. With a flavour that cannot be compared to anything else.
Sugar free

Gluten Free
Suitable for vegans.
Net weight 25 gr
Fisherman's Friend 
Lofthouse 🇬🇧
Ingredients:
Sweetener (sorbitol), aromas (licorice extract, menthol, peppermint oil, ammonium glycyrrhizate), ammonium chloride (E510) 5%, anti-caking agent (magnesium of fatty acids).
Not for children under the age of 5.
People with hypertension must watch their intake.