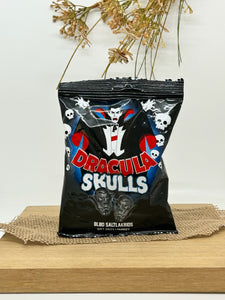 Dracula Sculls Licorice
Blot en enkelt bid af Draculas saltede og bløde salmiaklakrids, og du er klar til kamp mod selveste Dracula. Dracula skulls med lakridssmag er slik, der bidder igen. De er nemlig overtrukket med stærkt salmiaksukker, der eksploderer på tungen.
Dracula skulls licorice is salty and soft and covered with strong salmiak flavoured sugar. An explosion on the tongue.

Net weight 70g
Scan Choco 🇩🇰
Ingredients:
Sugar, glucose fructose syrup, gelatin, salmiak, licorice, aroma, colouring (E153).
May contain traces of nuts, gluten, eggs and soy.