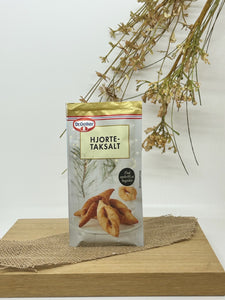 Dr. Oetker Hjortetaksalt
Dr. Oetker Hjortetaksalt er et hævemiddel, der er velegnet til flade og bløde kager som fx lagkagebunde og klejner. Hjortetaksalt egner sig ikke til høje kager og muffins.
Hjortetakssalt is used to make delicious klejner - a Danish Christmas favourite - and brunkager as well. 
Hjortetakssalt is a common leavening agent used in Denmark. Hjortetaksalt is Ammonium Bicarbonate also called Baker's Ammonia. The Ammonia gives a lighter and crispier result to biscuits.
Danish recipe on the back.
Net weight 25g
Dr Oetker 🇩🇰