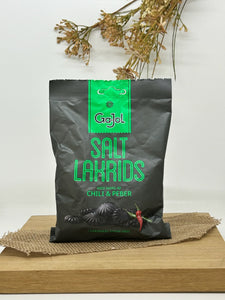 Ga-Jol Lakrids Chilli & Peber - Chilli & Pepper Licorice
Ga-Jol Salt Lakrids Chili & Peber is the new spicy licorice delight from Ga-Jol. The bite-sized tabs made from hearty licorice have been refined with a hot mixture of spices. This is made up of strong pepper and fiery chili peppers. An exciting taste experience that nobody forgets so easily. A Danish Favorite!
Net weight 140g
Ga-Jol
Toms 🇩🇰
Ingredients:
Sugar, modified starch (corn, potato), glucose-fructose syrup, gelatine, raw licorice 5%, ammonium chloride (E510) 3%, salt aroma, vegetable oils (coconut, rape seed), glazing agent (carnauba wax), chilli pepper extract 0.1%.