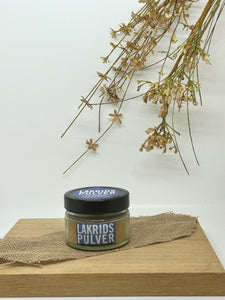 House of Denmark Lakridspulver (Pure Licorice Powder)
Lakridspulver er et populært produkt, der er blevet ophøjet fra slikprodukt til gourmetkrydderi. Lakridspulver bruges i mange nye opskrifter på alt fra smoothies, kage, is, ristede mandler, chokolade, til brød og varme retter. Kun fantasien sætter grænser.
100% raw liquorice powder - no added sugar.
Use for desserts, baking, chocolate and muesli.
Net weight  35g
Best Before Date 30/04/24
House of Denmark 🇩🇰
Ingredients:
Raw licorice
People with hypertension must watch their intake