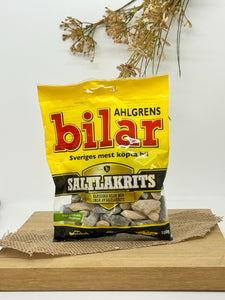 Best Before Date 04/12/23 Ahlgrens Bilar Saltlakrits - Salt Licorice
Ahlgrens Bilar Saltlakrits is the licorice version of Ahlgrens classic foamy car lollies.
It is Sweden's tastiest car, in Scandinavia's favourite flavour - licorice. Same shape and texture as the original but with a salty licorice flavour.
Ahlgrens
Cloetta 🇩🇰🇸🇪🇳🇴
Net weight 125g
Ingredients:
Sugar, glucose syrup, starch, gelatin, inverted sugar syrup, salmiak (E510), licorice extract, colours (E150c, E153), salt, flavours.