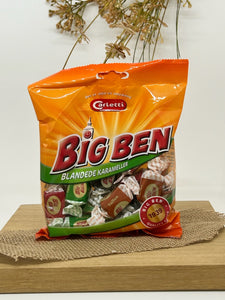 Big Ben Blandede Karameller - Mixed Toffee
Big Ben blandede karameller er de klassiske blandede karameller du kender fra fastelavn, sidste skoledag og Halloween. Det er en god blanding af forskellige smage som rom, hasselnød, kakao, lakrids og alm. karamel.
Mixed toffee pieces with exciting flavours like rum, hazelnut, cocoa, licorice and original butter toffee.
Net weight 130g
Carletti 🇩🇰
Ingredients: Glucose syrup, sugar, vegetable fat (coconut oil), whey powder (milk), licorice powder, whole milk powder, salt, dye (vegetable charcoal), gelatin, aroma.

Traces of soy, hazelnuts and gluten.