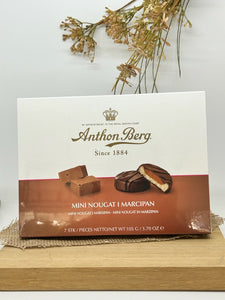 Anthon Berg Nougat i Marcipan
Mini nougat and marzipan pies coated in creamy milk chocolate. Anthon Berg has brought you a new favorite that you never knew you needed.
Net weight 105g
Best Before Date: 20/07/24
Anthon Berg
Toms Group 🇩🇰
Please be aware that as always we will pack this product as safely as possible, however as this is a delicate product we can not guarantee this product will arrive in perfect condition. We will continue to stock this Danish favourite despite the risk, however when you choose to purchase this item you agree to receive it as it arrives. Thank you for understanding.
We highly recommend using Express Post when purchasing this item.
Ingredients: Sugar, Almonds 15%, apricots, toasted hazelnuts 9%, cocoa butter, cocoa pulp, whole milk, glycose syrup, milk fat, emulsifier dairy (lecithin), preservative (invertase), preservative (edic acid), vanilla extract At least 33% dry cocoa solids substance and at least 23% milk chocolate. At least 50% cocoa solids substance in the dark chocolate.
Allergens: Contains almonds, hazelnuts and, milk. May contain gluten.