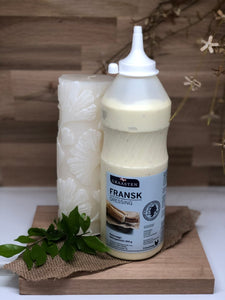 Graasten Fransk Hot Dog Dressing (900g)
Net weight 900g
A creamy sauce, delicious with grilled sausages and as a filling in the Danish popular Fransk hotdog.
It's also great in filled pita breads.
---
Graasten Fransk Dressing er en traditionel mild dressing rørt med estragoneddike, æggeblommer, sennep og krydderier. Perfekt til grillpølser og uundværlig i en ægte fransk hotdog. Prøv den også til pitabrød, kogte- eller stegte grøntsager og alle slags kartofler.
Graasten 🇩🇰
Best Before Date: