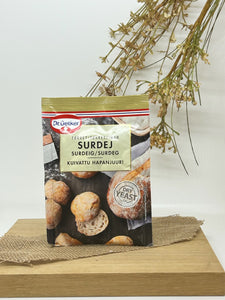 Dr. Oetker Tørret Surdej - Dry Sour Dough Mix
Går du og drømmer om lækkert hjemmebagt surdejsbrød, men har ikke tiden eller overskuddet til at fodre en surdej dagligt? Så har vi nu den perfekte løsning til dig!

Med Dr. Oetker Surdej kan du nemt og hurtigt bage lækre surdejsboller og brød, helt uden besværet med at starte en surdej op.

En pose Dr. Oetker Surdej består af både tørret surdej og tørgær, på den måde hjælper gæren med at sætte fut i surdejen og få brødet til at hæve på rekordfart. Dr. Oetker surdej får ikke brødet til at smage specielt surt, men bidrager med surdejens andre egenskaber, så du nemt kan lave lækkert og saftigt surdejsbrød. Fordi Dr. Oetker Surdej ikke får brødet til at smage så surt er det også perfekt at bruge, hvis du vil bage sødt surdejsbrød, fx brunsviger eller kanelgifler.

1 pose Surdej passer til ca. 500 g mel og tilsættes sammen med melet.
A dry sourdough and yeast mix.
Add to approximately 500g flour.
See recipe ideas: https://www.oetker.dk/opskrifter/s/broed-og-boller/surdej
Net weight 30g
Best Before Date 26/08/23
Dr. Oetker 🇩🇰