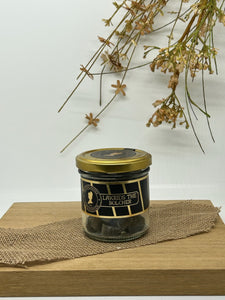 Østerlandsk Licorice Tea Candy
Licorice  flavoured hard boiled candy.
Håndlavede bolcher med ekstrakt fra vores kundefavorit, Lakrids The. 
Bolcherne er lokalt produceret i Virum for Østerlandsk Thehus af bolchemager Ole Voigt Andersen. Samarbejdet med Ole har fremavlet 10 eksklusive smagsvarianter, skabt med ekstrakt fra vores theer og kaffer. 
Vores Lakrids The Bolcher passer perfekt til hyggestunder - og er en fin gaveløsning til én du holder af.
Net weight 100g 

Østerlandsk Thehus 🇩🇰
Best Before Date: 
Ingredients: Ammonium chloride (E510), anise, orange oil, chilli, extract from the tea, licorice tea, colours (E153, E172), glucose, cinnamon, licorice powder, sugar.