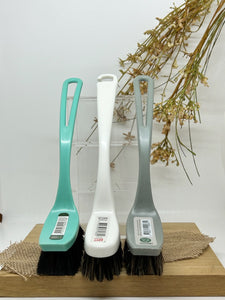 Dansk Opvaskebørste - Dishwashing Brush
The must-have Danish item in your kitchen.
Dishwashing brush with all natural fibres that will tolerate high temperatures from both hot frying pans and the dishwasher.
Den gode opvaskebørste med ægte hår der tåler høj varme fra både varme stegepander og opvaskemaskinen. 2 komponent, plast og blødt gummi, skaft der giver både et godt greb og en mere skånsom vask af eksempelvis glas og lignende. Skaftet er i genbrugsplast og biogummi. Hestehårene tåler op til 100 grader celsius.
Variety of colours
 🇩🇰