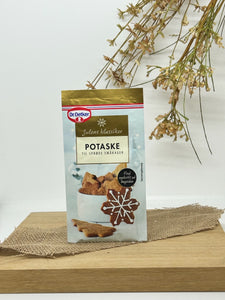 Dr Oetker Potaske
Dr. Oetker Potaske is a raising agent that is particularly suitable for flat and crisp cookies such as brown cakes (Brun kager). Should always be dissolved in cold water before adding.
Dr. Oetker Potaske er et hævemiddel, der er særligt egnet til flade og sprøde småkager som fx brunkager.  

Potaske er et hævemiddel, som traditionelt bruges i brunkager, da det gør kagerne ekstra sprøde og fremmer bruningseffekten. For at få potaske til at virke, skal potaske altid først opløses i koldt vand, inden den tilsættes den varme sirup. Dejen danner små luftbobler, som ved bagning sikrer et sprødt resultat i de tynde kager.
Net weight 25g
Dr Oetker 🇩🇰