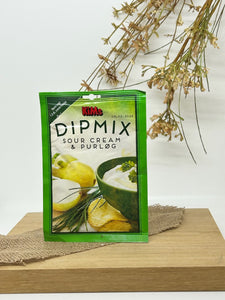 Kims Sour Cream & Purløg Dip Mix - Sour Cream and Chives Dip Mix
Sour cream and chives flavoured dip mix.
Mix with 200ml  sour cream or creme fraiche.
Dip Mix Sour Cream & Purløg er nem og lækker dip lige til at blande op med creme fraiche. Smagen er lavet med inspiration fra danskernes favoritchips nemlig Kims sour cream and onion chips. Her er smagen twistet med purløg, så der kommer ekstra gang i dippen.
Kims 🇩🇰