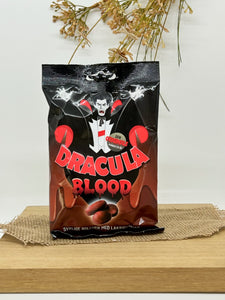 Dracula Blood Candy
A classic hardboiled tangy and salmiak candy with a licorice powder filling.
Det klassiske Draculabolche opstod og bed sig fast på det danske slikmarked for mere end 25 år siden. Det røde bolche med lakridssmag har gennem alle årene været elsket af danske slikmunde med hang til det stærke. En rød klassiker.
Net weight 90g
Scan Choco 🇩🇰
Ingredients:
Sugar, glucose syrup, flavour, ammonium chloride (E510) 2.4%, licorice powder, colours (E163, E120, E100).