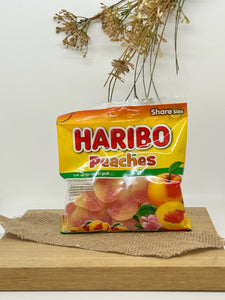 Best Before Date 31/12/23 - Haribo Ferskner - Peaches
Ripe for the picking HARIBO Peaches are full of fruity fun. Our soft gummy peaches are sweet, velvety soft and irresistibly delicious. As peachy as they come!.

Radiant colour, a soft texture and an intense peach flavour. An absolute must for fruit gummy fans of any age!
Haribo Ferskner er bløde vingummier med et sødt sukker overtæk. Vingummien har en behagelig smag af fersken.
Net weight 120g
Haribo 🇩🇰


Ingredients:
Sugar, glucose syrup (from wheat and/or corn), gelatin, acids (citric acid, fumaric acid), fruit and plant concentrates (safflower, elderberry, blackcurrant, orange, lemon, mango, passion fruit, aronia, grape) elderberry extract, flavouring.