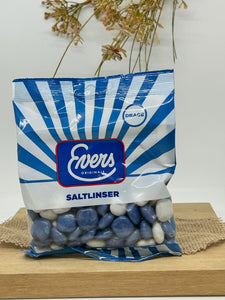 Evers Saltlinser - Big Bag
Salty and chewy licorice with a crunchy sugar shell.

Net weight 190g
Evers er et dansk mærke, som har eksisteret siden 1866. Virksomheden startede med et maltbolche, da grundlæggeren C.R. Evers var maltølbrygger. Han brugte et biprodukt fra ølproduktionen til at lave bolcher, hvilket var startskuddet til en lang række af bolcherne hos Evers. Sortimentet tæller, foruden bolcher, dragéprodukter med salte og søde indlæg af lakrids samt frugt- eller karamelsmag.
Evers
Carletti 🇩🇰
Ingredients:
Sugar, modified starch (potato), thickening agent (gum arabic E414), ammonium salt, licorice extract, colours (E171,E163), glazing agents (carnauba wax, bees wax, shellac), flavour, emulsifier (mono and diglycerides of edible fatty acids).

Contains traces of hazelnuts and almonds.