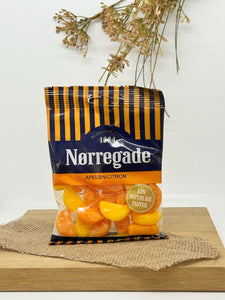 Nørregade Appelsin/Citron - Citrus Hard Boiled Candy
Nørregade hard boiled orange and lemon candy has a fresh delicious taste. 
Tja – Det smager, som navnet antyder, af appelsin og citron. Formet som citronskiver og i øvrigt ret svære at stoppe med, når man først er gået i gang.
Net weight 120g
Original Nørregade Bolcher.
Nørregade
Spangsberg 🇩🇰
Ingredients:
Sugar, glucose syrup, acidity regulator (E296), water, aroma, colour (E100,E120).
May contain traces of dairy, soy, wheat and nuts.