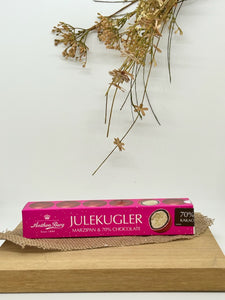 Anthon Berg Julekugler
Anthon Berg marzipan balls coated with 70% dark chocolate and encased by a crisp sugar shell.
Anthon Berg Julekugler indeholder en kerne af marcipan overtrukket med 70% mørk chokolade og farverig, sprød sukkerdragéering.
Net weight 90g
Best before date: 04/08/24
Anthon Berg
Toms Group 🇩🇰
Please be aware that as always we will pack this product as safely as possible, however as this is a delicate product we can not guarantee this product will arrive in perfect condition. We will continue to stock this Danish favourite despite the risk, however when you choose to purchase this item you agree to receive it as it arrives. Thank you for understanding.
We highly recommend using Express Post when purchasing this item.