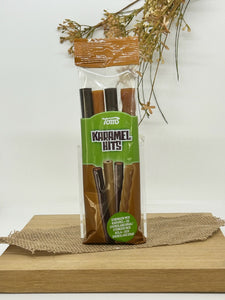 Toms Karamel Hits
Stænger med karamel og chokolade smag.
Chewy mixed caramel and chocolate flavoured sticks. A Danish favourite.
4pk 
Net weight 100g
Toms Group 🇩🇰
Ingredients: Sugar, glucose-fructose syrup, WHEAT FLOUR (GLUTEN), modified corn and modified corn and potato starch, humectant (glycerol / hardened / vegetable hardened fat (palm kernels, coconut), WHEAT / WHEAT STARCH (GLUTEN), emulsifier (mono- and diglycerides of fatty acids), fat-reduced cocoa powder / auxiliary powder gum arabic), salt, vegetable oil (coconut), burnt sugar / caramel / sugar color, syrup, aromas / flavors, raw licorice.