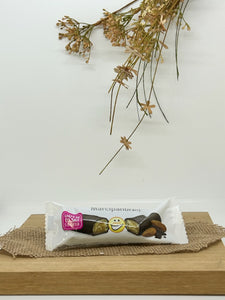 EASIS Marcipanbrød - Chocolate Marzipan Bar Sugar Free
Sugarfree dark chocolate and marzipan bar.
EASIS Marcipanbrød består af lækker marcipan overtrukket med god, mørk chokolade med min. 60% kakaotørstof. Marcipanbrødet er selvfølgelig uden tilsat sukker og indeholder 132 kcal. EASIS Marcipanbrød egner sig perfekt som et hurtigt mellemmåltid, når du er på farten.
30g 
EASIS 🇩🇰
Best Before Date: 15/02/24
Please be aware that as always we will pack this product as safely as possible, however as this is a delicate product we can not guarantee this product will arrive in perfect condition. We will continue to stock this Danish favourite despite the risk, however when you choose to purchase this item you agree to receive it as it arrives. Thank you for your understanding. 
We highly recommend selecting Express Post when purchasing this item.
Ingredients:
Almonds 42%, cocoa mass, filler (polydextrose), water, oligofructose, sweetener (erythritol), dextrin, cocoa butter, inulin, reduced fat cocoa powder, emulsifier (soy lecithin), preservative (caliumsorbate), sweetener (sucralose, steviol glucoside), natural vanilla aroma.