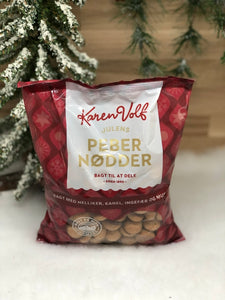 Karen Volf Pebernødder - Spiced Biscuits
Karen Volf pebernødder is a true Danish traditional Christmas biscuit made with lots of spices such as ground cloves, ginger, cinnamon and nutmeg.
Spiced biscuits.
Ingen julehygge uden pebernødder. Sådan har det været i Danmark lige siden 1500-tallet. Ifølge Karen Volf bages julehygge med nelliker, ingefær, kanel og muskat. Det er opskriften på ægte juleglæde.
Net weight 400g
Karen Volf 🇩🇰
Best Before Date: 31/07/24